---
Thunder Bay Northern Hawks have been a dominant force in the Junior B scene from Day 1. Since their formation in 1999, the Hawks have more league trophies than any other team in the 25-year history of the Lakehead Junior Hockey League.
On April 8 the Northern Hawks added to their trophy case winning another LJHL championship 4-games-to-1 over the regular season winner Thunder Bay Fighting Walleye. It was the 10th title, winning eight of the past nine seasons.
In the series finale the Walleye jumped out to a 2-0 lead in the opening period, carrying momentum from their Game 4 overtime victory. It would not last into the second frame though.
Noah Lagadin, Zack West, Matt Ray and Drew Safronuk all found the back of the net in the second period to help power the Hawks to a 7-3 victory. Goaltender Bradley Hampton, who was strong in each game for the winners, stopped 30 shots in the title clinching final.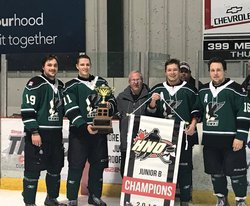 "I'm extremely proud of this group," said head coach Frank Felice. "Despite falling behind early, there was no panic and we stuck to our game plan. We knew we had the firepower to come back and we did."
The Northern Hawks now turn their attention to hosting the 2018 Keystone Cup, a four-team border battle with the Keystone Junior Hockey League. The tournament is scheduled for April 19-22 to be played at the Thunder Bay Tournament Centre.
The Fighting Walleye will also compete in the tournament as the LJHL regular season winner. Representing the KJHL will be Peguis Juniors and St. Malo Warriors.
LJHL Finals results
March 29 Northern Hawks 5, Fighting Walleye 2
March 31 Northern Hawks 6, Fighting Walleye 0
April 3 Northern Hawks 4, Fighting Walleye 2
April 4 Fighting Walleye 4, Northern Hawks 3 (OT)
April 8 Northern Hawks 7, Fighting Walleye 3